Executive resume writing businesses pride themselves on ensuring maximum customer satisfaction. A well-written resume should increase the volume of interested calls from hiring managers. This equates to more interviews and ultimately improves the possibility of landing desired roles.
Most businesses provide more than one service. They'll have a specialist writer(s) who will create an engaging cover letter, an optimized LinkedIn profile, or an enthralling executive bio. Clients can decide whether to order one product or more.
In the table below are our top 5. We have assessed them on Process Efficiency, Ratings/ Reviews, Turnaround Time, and Good Value. Here are our leading resume writing services:
Why Do You Need an Executive Resume Writing Service?
1. Avoid Mistakes in your Job Search
An executive resume writer knows what will attract a hiring manager or what will cause them to call out "next!" They'll also help their clients bypass the tripwire that causes most job seekers to stumble.
If you are unsure about your career direction, or whether you'll want full time work, a resume writer will guide you.
2. Make ATS Robots Give the Green Light
Many hiring managers screen resumes using Applicant Tracking Systems (ATS). These systems compare keywords in your resume to those in the job description. If your resume lacks the necessary keywords, you will be omitted from the hiring process before a human even sees your application. A professional resume writer can help pinpoint appropriate keywords for your resume.
3. Spend More Valuable Time on Your Job Search
It can take days to create an eye-catching resume. It may take longer if your work history is complicated or you do not have strong writing skills. Hiring an executive resume writer will give you more time to network and prepare for interviews.
4. Get an Objective Viewpoint
It can be difficult to objectively assess your skills and experience. Having another set of eyes to look over your abilities and accomplishments gives you a more objective perspective. A resume writer can help you decide which of your strengths and skills should be highlighted and which should not.
5. Get a Matching Cover Letter and LinkedIn Profile
Many applications require cover letters and LinkedIn profiles. It can take time to create a well-written document that is tailored to each job you apply for. Both of these should be available from a resume writing service.
Executive Resume Samples
Here you can see a sample that will give you an idea of how your executive resume should look like.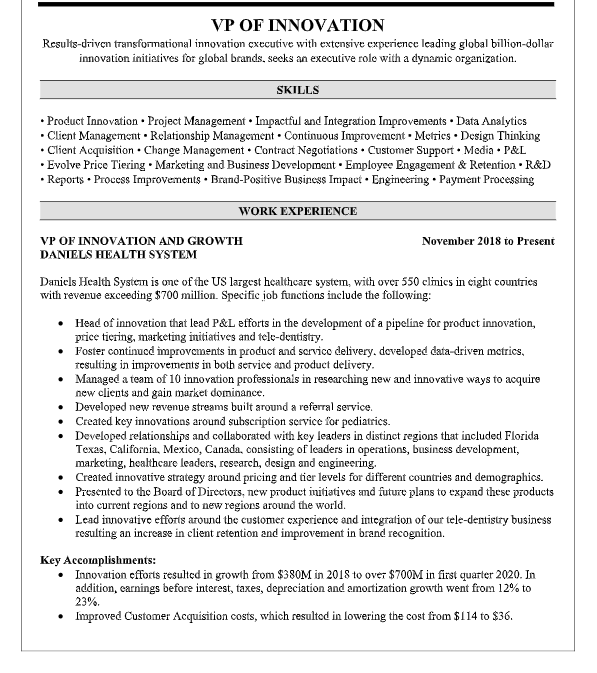 How Do You Find The Executive Writing Firm For You?
The answer may seem fairly straightforward. Surely it's how you find any other service. All you have to do is type in your request into a search engine. And in just a few seconds it will come up with a slew of results. Just select the firm at the top of the search results.
If only things were that simple. Unfortunately, it doesn't work every time. When choosing the firm for you, there are various aspects that you need to consider. Here are some points to think about:
What are the Company's or Individual's Credentials?
Do they have special HR or Resume Writing Accreditation?
What is their process? Will you be speaking to a human being over a video call, a freelance platform, a social networking site, or a chatbot over a website?
What is their Turnaround time?
What are their Reviews like?
Pricing: Can they fit your budget?
The Bottom Line
With so many executive writing services to choose from, you may find yourself scratching your head. Many businesses provide similar services. After all, their primary goal is to increase their client's chances of success in the job market.
Executive resume writing services have never been more in demand. The world is still recovering from being rocked by COVID and economic events that have resulted in higher unemployment.
Our top five firms are those who we believe provide the best value, quality, and customer service. We chose Super Star Resume because of its commitment to achieving customer satisfaction, value for money, and personal attention to their clients' needs. They also have a more diverse set of clients than many of their competitors.
You should check out our articles about the best resume builders ,the best resume writing service and the best bio writing services for executives.