Toast POS is point-of-sale software specific to the restaurant industry. Restaurants can use Toast to accept credit card payments, take customer orders, and allow seamless communication between front and back-of-house staff. Read on to see all the ways Toast POS can work for your business.
Get Toast POS for Your Restaurant
Toast POS is an excellent point-of-sale software for any size restaurant. Startups can plug right into its free tier of service, and more established businesses have a handful of other plans to pick from. No matter what you choose, there's 24/7 customer support available to help with issues.
Using the software does require proprietary Toast POS hardware, but Toast will give you the first terminal or handheld for free. While Toast's plans include most features, restaurants interested in marketing or advanced management tools will need to pay extra for these add-ons.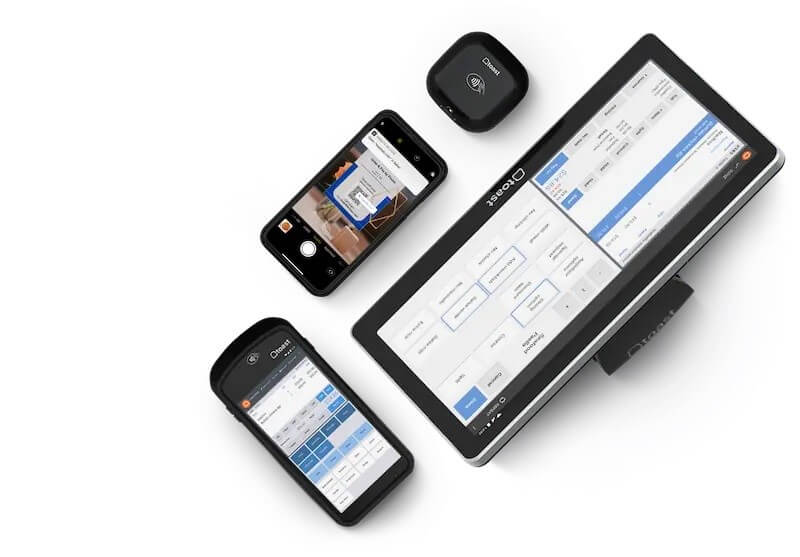 Free tier of service
Commission-free online orders
24/7 customer support
Proprietary hardware
Limited options for reservations
Several costly add-ons
Toast POS caters specifically to the food and beverage industry, choosing not to spread itself thin with other business types. Whether you run a food truck or fine dining, Toast POS has all the tools any restaurant needs to thrive.
It's possible to use Toast POS without paying a cent with its impressive starter kit. Not only will you have access to several software tools, but the platform also sends a terminal your way free of charge.
Upgrading your plan unlocks new features as your restaurant demands them, such as online ordering and payroll. There are also plenty of hardware options to accommodate an expanding restaurant floor or busy back of the house.
Who Toast POS is Best For
Toast POS is one of the best POS software for small businesses with a completely free starter kit including both hardware and software. Established restaurants can work directly with the point of sale provider to build a package suitable to their needs. The system leaves plenty of room for expansion, offering tools for online ordering and a payroll platform for burgeoning restaurants.
Toast POS Cost
Toast has four price plans to choose from as your restaurant's demands change. Check the chart below to see what each one offers:
Starter Kit
Point of Sale
Essentials
Restaurant Basics
Order and Table Management
Payroll and Team Management
2.99% + 15¢ per transaction
2.99% + 15¢ per transaction
2.99% + 15¢ per transaction
2.99% + 15¢ per transaction
Unlike other point-of-sale services, Toast charges one flat rate across the board for payment processing. This takes some of the sting out of starting at a lower price point, although rates are still a bit high.
There are some fantastic benefits to using Toast POS, even at the free level. Even though Toast requires proprietary hardware, the company gives you a terminal just for signing up. Keep in mind you'll have to pay for any additional terminals you may need. If choosing a higher tier, Toast POS will work with you to create a custom configuration.
Each plan gives access to order, table, and menu management tools you need to run an effective restaurant. You'll also be able to review reports to see sales summaries and which products aren't selling.
At $110 per month, the Restaurant Basics package adds in team management tools for scheduling and payroll. It also includes business insurance and a 401k package exclusively for Toast POS users.
If you plan to allow any online ordering, you'll need to invest in the Essentials package. For $165 per month, the Toast POS system will connect you to customers via the web and provide delivery service options as well.
Get Started with Toast POS Now!
Toast POS Features
Toast POS has an assortment of features that makes it a top restaurant POS software. Let's check out some of the top ones now.
Order and Table Management
Whether you're running a fancy sit-down or fast casual, Toast POS has the order tools for you. You can take orders from customers at a counter through terminals or have guests place their own orders through self-ordering kiosks.
Handheld tech lets you take and send orders from the table, enabling your staff to spend more time with customers. Flex tablets track orders for the back of the house, allowing for efficient food prep and speedy order completion. The software also makes it possible to assign tables to different servers to avoid confusion.
Menu Management
All Toast POS software connects to the cloud, so you can access and modify your menu from any location. As you make updates, you'll see changes appear in real time both in your physical restaurant location and online.
You can also track and manage item availability with to-the-minute countdowns. All your servers and kitchen staff will know the moment you run out of a menu item to avoid frustration from customers.
Toast POS Hardware
There are a slew of Toast POS hardware options for your restaurant to choose from. When signing up for the free starter kit, you'll receive your very own Toast Flex for orders and system management.
Other Toast POS plans allow for a customized hardware setup, including kiosks for customers to order from and portable devices servers can use at tables. Your kitchen staff can use wall-mounted or standalone tablets to view orders for prep.
Toast makes devices for all restaurant types, and each is designed to withstand the rigors of the industry. Machines come spill and temperature resistant and are able to adjust to match your decor.
Reporting and Analytics
Knowing your restaurant's performance is a key indicator of success. No matter where you are, you can log into the Toast POS system to receive various reports and analytics.
If you have multiple locations, Toast POS will show you an overview of each one. You can see labor costs, sales numbers, and how each restaurant performs. It's possible to view a sales summary over any time period to see if a particular promotion worked or if items sold at different price points.
You'll know at a glance what's working and what isn't, so you can make adjustments to menu items or prices on the fly. By identifying areas of improvement, you can stop throwing money away and start making more than ever before.
Payroll and Team Management
Toast's team management tools are perfect for expediting employee onboarding and making scheduling a snap. You can build schedule templates and communicate directly with your staff from within Toast about last-minute changes or what your daily specials might be. The Toast POS system also adds in labor data to monitor employee time.
The same software has a built-in restaurant payroll system linking employee hours with wages so you don't have to. You can use Toast POS to direct deposit funds into employee accounts or print checks for each one. Toast POS can remit federal and state information when tax time rolls around.
Online Ordering
Why limit your restaurant to a physical location? Toast POS has a robust online ordering system to connect with customers on the go. Online purchases have no commission fees, so your income doesn't take a hit.
Customers can pick up orders curbside, or you can take advantage of Toast's delivery service system. The Toast POS system locates local drivers for you and quickly gets your food into customers' hands.
Email Marketing – Loyalty
Through Toast POS, your restaurant can run targeted promotions to current and potential customers. After building email marketing templates, you can set the system to send messages automatically so you don't have to. At the end of the day, you can use Toast software to see how effective your campaigns are.
You can also use Toast's loyalty programs to reward repeat customers. The software prompts customers to sign up, and loyalty members earn points for purchases they make. Information is saved within your Toast POS system and linked to customers through a credit card number.
Toast POS Customer Support
Toast won't sell you some software and leave you high and dry. It offers team training and go-live support with experts who can design a system specific to your restaurant's needs. Once live, you can contact Toast POS customer service 24/7/365.
Even after getting your system up and running, Toast has several training opportunities to hone your skills. There's a massive database of information and interactive webinars throughout the year. You'll also get sneak peeks at new products and offer feedback about what you use.
Get Started with Toast POS Now!
Alternatives to Toast POS
Toast POS may not be ideal for every restaurant. Here are a few alternatives to consider if it's not for you.
Like Toast POS, TouchBistro is a restaurant-exclusive POS software with an assortment of tools for all restaurant types. The software relies on iPad devices, which can be considerably cheaper than Toast's proprietary machines. Customer support is always on hand to help with issues.
Pricing with TouchBistro isn't quite so clear. It will set you back $69 per month to get the basic package, and you'll have to decide from there which other features you need. Each add-on increases your monthly cost.
Some features, such as email marketing and online ordering, have a substantial price tag that smaller businesses may not be able to afford. When you sign up, you're committing to at least a year-long contract with TouchBistro.
Several restaurant POS tools
Works with iPad devices
Always available customer support
Minimum one-year contract
Nontransparent hardware and processing fees
Add-ons like online ordering are not cheap
Square POS is a well-rounded point of sale system with plans dedicated to the food and beverage industry. Like Toast POS, Square has a free plan for newer businesses that comes with a card reader for in-person sales. Interestingly, Square POS includes online ordering in all its packages for no extra charge.
Once you outgrow the free plan, your next restaurant POS option costs $60 per month. Here, you'll receive advanced features, mobile POS software, and finally have access to 24/7 support.
Square's processing rates in person aren't as bad as Toast, but online rates are significantly higher. There's no way to make use of a third-party payment processor when dealing with Square, either.
It should come as no surprise that Square has several extra features you can add to your plan for an additional fee. Of these, the most notable are marketing tools. Read our Square POS review to find out more about it.
Basic plan is free to use
Free reader for in-person sales
Online ordering included in all plans
Must use Square's payment processing
Processing rates are on the expensive side
Marketing tools cost extra
Lightspeed POS crushes inventory management with a robust system other point of sale services can't compete with. It's simple to track products across multiple locations, assign specific SKUs to items, and reorder supplies straight from the app.
Pricing for restaurant tools starts at $69 per month, but this package leaves out critical features like table ordering and floor plans. If you want access to all Lightspeed's features, your monthly bill will surpass the $400 mark.
There's some flexibility with hardware, but it's a bit annoying that you have to contact customer service for a quote. Fortunately, Lightspeed POS has free onboarding assistance to ensure everything gets set up correctly the first time.
For those watching every penny (and who isn't?), Lightspeed POS has lower payment processing rates than Toast. Lightspeed users also have access to a suite of eCommerce tools for online ordering.
Robust inventory management system
Free onboarding assistance
Lower payment processing fees
eCommerce platform not included in the basic tier
Must request a quote for hardware pricing
On the pricey side
Clover POS has a series of plans specifically for quick service or full-service dining. Each option includes point-of-sale software and the hardware you'll need to get up and running. Higher-priced tiers come with more hardware, but you can always purchase more to round out your setup.
Even the most basic quick-service dining plan starts at $90 per month and goes up from there. Full-service restaurants wanting all the fixings should expect to pay no less than $290 monthly. No matter which plans you end up choosing, your first month of service is entirely free.
If you're keen on online ordering, Clover does have the capability for an online store. This feature is a costly add-on not included in any plan.
Of the restaurant POS services we've reviewed, Clover has the lowest payment processing rates for card-present transactions. A few tenths of percent savings on each purchase may not seem like a lot, but the savings add up fast.
Hardware included in each plan
First month of service is free
Low payment processing fees
Confusing pricing model
Some Clover partners may not do legitimate business
Keyed-in transactions have significantly higher processing rates
Frequently Asked Questions (FAQs)
Want to learn more about Toast POS? Below you'll find answers to some of the most common questions about the point of sale provider.
Bottom Line on Toast POS Review
Toast POS creates an interface between you and the customer, allowing you to take orders and credit card payments. The software facilitates communication between the front and back of house, expediting order turnaround and keeping customers happy. As your restaurant grows, Toast POS makes it easy to upgrade to online ordering, targeted marketing campaigns, and can even handle scheduling and payroll.
Get Started with Toast POS Now!