The LLC formation process can be complicated and time-intensive, especially if you are unsure about the regulations and laws that apply. This MyCompanyWorks review shows how the LLC service simplifies and speeds up this process. It's a good choice for aspiring entrepreneurs who want to dodge the hassle of dealing with tons of legal paperwork.
Our Verdict
MyCompanyWorks offers an interactive setup wizard that makes it simple and fast to form a limited liability company (LLC) or corporation. The service offers a broader range of features compared to some of its competitors like ZenBusiness and Incfile although its services can be pricier. Owners of smaller businesses are likely to benefit more from it.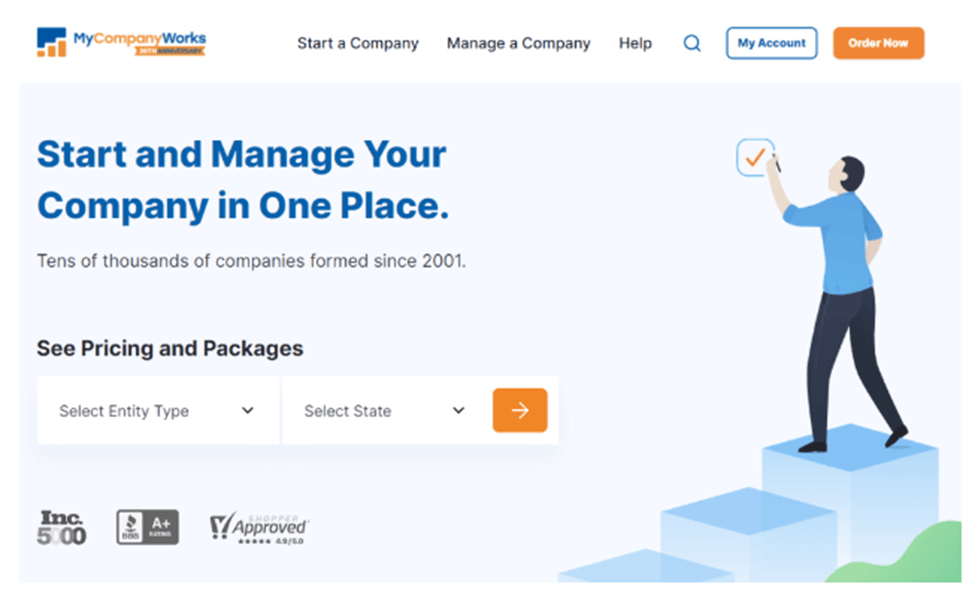 User-friendly platform and responsive customer service
Fast services irrespective of your package
Free business tax consultation plus free business alerts
1-year free domain and web hosting
100% satisfaction guarantee on all pricing tiers plus outstanding customer reviews with an A+ BBB rating
Not the cheapest LLC services available
Lower tier pricing is not inclusive of registered agent service
MyCompanyWorks at a Glance
MyCompanyWorks is an LLC formation service established in 2001. It is a top choice for small business owners that need legal filing assistance when launching their startups. Users get the perfect combination of competitively priced packages, a wide array of helpful features, and top-notch customer support.
Among the most enticing features is the 100% satisfaction guarantee. The company also maintains excellent customer ratings because of its ease of placing an order and fast turnaround time. In fact, it ranks as one of the best LLC services around.

Who Is MyCompanyWorks Best For?
MyCompanyWorks LLC service is best for entrepreneurs looking for assistance in forming and getting a business off the ground without paying a premium for it. While it can be pricier than some online business formation services, it is not nearly as expensive as hiring an in-house attorney.
Pricing
MyCompanyWorks offers a tier-based service with a broad spectrum of features. The basic package costs $79 and offers plenty of features ideal for startups. The only catch is that you have to pay an extra $99 for a Registered Agent Service with both the Basic and Entrepreneur plans.
The Entrepreneur Plan costs $199, and the Complete Package goes for $279. The upper-tier plans offer a more comprehensive set of features with just about everything to fast-track the business formation process.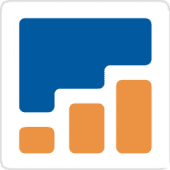 Plans
Tier 1 (Basic)
Tier 2 (Entrepreneur)
Tier 3 (Complete)
Articles of Organization Filing Services
Personalized Operating Agreement
Unlimited Access to Customer Support
Lifetime Business Forms and Tax Forms
Free Business Tax Consultations
Free Domain Name and Web Hosting (1 year)
Business Kit, Seal and Members Certificates
Free Ebook "Startups Made Simple"
Business License Compliance Package
MyCompanyWorks Review of Features
You'll see in this review of MyCompanyWorks that it provides a wide variety of features with each plan. You could also opt for add-ons for more convenience. Here is more information on the features you can expect with this service.
Business Name Availability Search
MyCompanyWorks provides unlimited name availability searches. This allows you to pick a unique name for your business and avoid already taken ones. If your desired business name is unavailable, you can make minor alterations using hyphens or abbreviations. The idea is to still find a unique name representing the business image you want to create.
Interactive Startup Wizard
Thanks to the interactive startup wizard, business formation processes on MyCompanyWorks are straightforward. The platform takes you a step at a time, allowing you to complete the filing process in minutes. Also, you will have access to the dashboard. This has an equally intuitive design, making it a breeze to check the status of your order.
Articles of Organization
Most first-time business owners have no idea which formation documents they need. MyCompanyWorks will aid in the preparation of the legal paperwork required when forming an LLC or corporation.
The documents are then audited to ensure there are no compliance or spelling mistakes. Within 90 days of your purchase, MyCompanyWorks will have submitted your business formation paperwork to your state government.
Registered Agent Service
When filing your business formation documents, you need to name a registered agent that will receive government correspondence and notices of lawsuits, among other documents, on your behalf. MyCompanyWorks provides a registered agent service for corporations and LLCs. This service is free if you go for the complete package but you'll part with $99 if you choose to subscribe to the lower-tier packages.
Business Operating Agreement
An Operating Agreement is one vital document you must have when forming an LLC. It outlines the company ownership structure and the duties of each member. Most importantly, the agreement stipulates the financial and working relationship between the members.
The most critical sections outlined in the document include capital contributions, organization, management and voting, membership changes, distributions, and dissolution. The specifics of the document can vary depending on the fashion of internal operations that best suits the business owners. MyCompanyWorks provides a customized business operating agreement to ensure your specific needs and preferences are met.
Company Notifications and Alerts
Missing deadlines, such as annual filing deadlines, can subject you to hefty IRS penalties and fines. MyCompanyWorks offers lifetime company alerts and notifications to ensure you never miss an important deadline.
Organizational Minutes
Organizational minutes will come in handy if you are forming a corporation. The business structure comes with rigid legal formalities, including the mandatory holding of annual meetings and maintaining clear records of board minutes.
The personalized meeting minutes feature provides a simple outline that can be useful for recording what transpires during official meetings. There's also a section that offers extra space for any additional information you would want to include.
Customer Support
MyCompanyWorks provides quality customer support via phone and email. The representatives are pretty responsive, and helpful. Phone support is available from 8 a.m. to 4 p.m. PST Monday to Friday, while email support is from 7 a.m. to 4 p.m.
Custom Bylaws
MyCompanyWorks also provides Custom corporate bylaws templates to set up the rules for your corporation that govern internal management. You'll even find sections that allow you to outline company policies and the responsibilities of directors, officers, and shareholders.
Federal Tax ID Number (EIN)
Every company must have a Federal Tax ID Number before it hires employees. If you opt for the Entrepreneur or Complete package, MyCompanyWorks will obtain the Employer Identification Number from the IRS at no extra charge. However, you have to pay a $49 fee if you opt for the Basic plan.
MyCompanyForms
This feature gives you access to over 200 sample forms of professionally prepared documents to help you maintain the operational compliance of your business.
Business License Compliance Package

The Business License Compliance Package is a third-party feature that will cost you $99, irrespective of your package. Entrepreneurs who are unsure about the licensing requirements of their newly formed companies will find this feature pretty helpful. It can save you hours of research.
Business Tax Consultation
The business tax consultation feature gives you access to a one-hour tax webinar that will not cost you a penny. The session will pack you with information about the IRS forms you should file depending on your business structure and even how you will be taxed. Also, you will learn how to handle payrolls and remain compliant with IRS regulations.
Domain Name and Hosting
The domain name registration and web hosting features are advantageous for those launching startups. MyCompanyWorks, in partnership with InMotion, will give you a new WordPress website with a custom domain for a whole year without charging a cent.
The site is professionally designed and mobile-optimized to swiftly get your company off the ground and enhance its online presence. After the first year, you can continue with the service for a $99 fee.
100% Satisfaction Guarantee
MyCompanyWorks maintains a 100% satisfaction guarantee. Irrespective of the package you choose, the company agrees to address any concerns you raise or give you a refund!
MyCompanyWorks Alternatives
As you've read in this MyCompanyWorks review, the service provides a host of useful features and can help you get your business off the ground quickly and efficiently. However, it is not the best fit for every business owner. The following are some alternatives to consider.
Rocket lawyer provides a comprehensive set of services that focus on helping businesses owners to dodge the high price of hiring an attorney. The company has a solid reputation built from providing reliable business formation services.
Rocket Lawyer Pricing
Rocket lawyer does not have the traditional tier-based plans. Instead, users can opt for premium membership at $39 per month or remain non-members and incur the costs of the standalone services they want.
The premium membership offers free legal documents and a 25% discount for the Registered Agent Service ($149). Also, premium members get a 30-minute free consultation with an attorney and unlimited access to legal guidance from a lawyer.
The non-member plans allow you to spend only for the services you need. This can be expensive if you want access to many features. For instance, you have to pay $39.99 for each legal document, $59.99 for legal consultation, and $49.99 for each question you want to ask an attorney.
Who Is Rocket Lawyer For?
Rocket Lawyer is best for any entrepreneur who wants to form a company and have quick access to reliable legal help. The service connects businesses and individuals to skilled lawyers for a low fixed rate if you sign up for membership. You are likely to make massive savings and still have access to legal services without hiring an in-house lawyer.
How Rocket Lawyer Compares to MyCompanyWorks
Rocket Lawyer provides only business formation absolute necessities. MyCompanyWorks, on the other hand, offers a whole range of features to suit the needs of different entrepreneurs. If you primarily need business formation services, MyCompanyWorks is your best bet. However, Rocket Lawyer is the better alternative for entrepreneurs that need ongoing legal assistance. Looks like what your business needs? Then read our Rocket Lawyer review to know more.
User-friendly platform and a free 7-day trial offer
Quick turnaround time for legal services
Intuitive form builder simplifies creating legal documents
Pretty responsive customer service reps (the wait time is 10 minutes maximum)
Mobile app available for Android and iPhone users
The pricing for most standalone services is at the steeper end of the spectrum
You have to enter your credit card information before accessing the 7-day free trial
As the name suggests, Northwest Registered Agent specializes in providing registered agent services. The company also provides LLC formation services for small and mid-sized businesses at reasonable prices. For a base rate of $225, you will receive generous assistance forming your business and enjoy the registered agent service feature.
Northwest Registered Agent Pricing
Northwest Registered Agent doesn't offer the usual tier-based services. Instead, you can choose between a customizable up-front payment option that costs $225 per year and the non-customizable VIP service that costs $420, although you can pay monthly installments of $35.
The customizable option includes LLC filing services and registered agent services. You can also choose from a range of add-ons to obtain other essentials like an Operating Agreement for $50, Federal Tax Number (EIN) for $50, and Phone Service for $9 monthly after the first two months. The non-customizable plan offers a more detailed package of features.
Who Is Northwest Registered Agent For?
If you put a high value on getting personalized customer support from your business formation company, you should undoubtedly give Northwest Registered Agent a try. Unlike the company's top competitors, who mostly outsource their customer support, Northwest Registered Agent maintains an in-house team of reps trained to ensure you receive maximum help each time you reach out. Read the Northwest Registered Agent review to learn more.
How Northwest Registered Agent Compares to MyCompanyWorks
Both MyCompanyWorks and Northwest Registered Agent offer commendable turnaround times and excellent customer service. The main difference between the two is their pricing and range of features.
MyCompanyWorks offers a fuller package of features at a slightly more pocket-friendly price. Northwest Registered Agent compensates for the cost by providing strong privacy protection.
Reputable business formation company and registered agent plus transparent pricing with no unnecessary upsells
A user-friendly interface makes LLC formation easy and fast plus excellent customer service
Quick turnaround time with same-day filing
Above-average privacy protection for users
No refund policy for the VIP Service
Add-ons can over-inflate the cost of services
ZenBusiness is yet another excellent alternative to using the MyCompanyWorks LLC formation service. The company handles the business formation paperwork on your behalf and files them with your state. You will receive a personalized experience and step-by-step guidance to make the business formation process faster and smoother without breaking the bank.
ZenBusiness Pricing
ZenBusiness offers three unique tier-based plans—Starter, Pro, and Premium. The Starter plan costs $ 49 per year and includes basic LLC filing, Registered Agent Service, and an operating agreement. The Pro and Premium plans cost $199 and $299, respectively. They offer more features with the premium plan, including upgrades like worry-free annual tax filing.
Who Is ZenBusiness For?
ZenBusiness is ideal for anyone looking for time and money-saving benefits when launching a new business. The service offers plenty of guidance ideal for newbies in business ownership. If you are on a tight budget, ZenBusiness is an option you must consider. To learn more about its services and pricing, read our complete review on ZenBusiness.
How ZenBusiness Compares to MyCompanyWorks
ZenBusiness compares well to MyCompanyWorks and can help you streamline the process of launching a business. The company also provides a decent range of features and excellent customer support.
Like MyCompanyWorks, ZenBusiness is not a top choice if you need ongoing legal aid. However, it offers an equally good registered agent service. Its services are slightly cheaper, making it an excellent option to consider if you only need basic LLC formation features.
User-friendly platform ideal for first-timers in business ownership
Reputable company with an outstanding customer rating
All business formation essentials included in tier-based plans
Affordable pricing and no hidden charges plus 60-day money-back guarantee
Registered agent service is free for only the first year
Plenty of add-ons that can inflate the price
Frequently Asked Questions (FAQs) for MyCompanyWorks Review
Below are answers to some frequently asked questions about MyCompanyWorks. We hope they will provide more information to guide you in your final decision.
Final Thoughts on MyCompanyWorks Review
MyCompanyWorks is a company you can depend on for reliable business formation services. Each tier-based plan offers a wide array of features, a fast turnaround time, and a 100% satisfaction guarantee. This service is best for small business owners who want more than just the basic business formation services yet do not have the budget for an in-house attorney.